Over 75 percent of the firefighters in America work as part of a volunteer station. This means they don't have the huge dispatch center, communication networks or high-tech equipment of large metropolitan fire stations.
Across the country, firefighters are risking their lives with subpar equipment. They put their lives on hold when a cryptic page comes through. They run to danger without knowing fully what they are running into.
All of that changes with the revolutionary firefighter pager app, Fire Text Response. Our app combines dispatch technology with the smart-phone that's already in your pocket. Now, you have crystal clear dispatch audio, directions, GPS information, weather alerts, and response times all simultaneously provided when you need it most.

Features of Our Emergency Response App
Without highly developed, advanced features, your department's ability to respond to an emergency effectively and efficiently is hindered. This firefighter pager app uses state-of-the-art technology, combined with customizable features found nowhere else.
With Fire Text Response, we bring the best firefighter pager app to every emergency department or first response team, every time.
Some of the amazing features of our firefighter page app include:
Simultaneously Notifies Personnel of Emergency
Dispatch Audio & Clear Sound Straight to Your Cell
Other Responders' Status Display at Station & On Cell
Department Wide Messaging & Communication
Dispatch Call Looped At Station For Personnel
Live, Local, & Accurate Weather Updates
GPS Mapping & Incident Location Maps
Multiple Display Option for Multiple Stations
Duty Status Updates To Stay Accurate & Informed
All Information Is Logged & Time Stamped
Dispatch Audio Saved In Specially Compressed Files
USB Controller Automation Options
How The Dispatch Software Works
When every single second can mean the difference between life and death, you need an emergency alert system that works. Our firefighter pager app alerts your dispatch team of an emergency with all detailed information in 60 second or less.
Step 1: Dispatch
The moment the call comes in, Fire Test Response sends text alerts and/or mobile app notifications to your smartphone within seconds. Responders receive the actual dispatch page audio along with GPS information, and even weather alerts within the firefighter pager app. Armed with all of this information they know exactly what to do, where to go, and what the situation at hand is. Meanwhile, at the station, the dispatch page audio is looped from the flat-screen and replayed so all responding personnel can hear the dispatch again.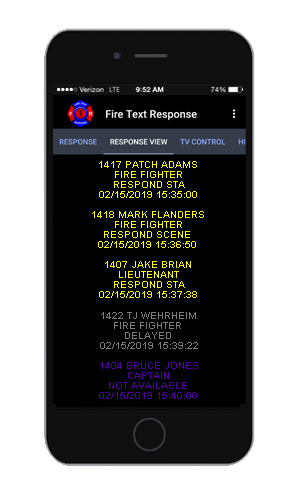 Step 2: Response
As soon as they receive the alert, personnel reply with their status and their response is immediately sent to the entire team with one simple tap of the button. Instantly, everyone knows who is en-route to station, en-route to scene, delayed, or not available. With Fire Text Response, all responding crew members now know who's where and when others will be there in order to respond to the scene appropriately. At the station, the firefighter pager app records all responses from personnel and provides a time-stamped display on a flat-screen.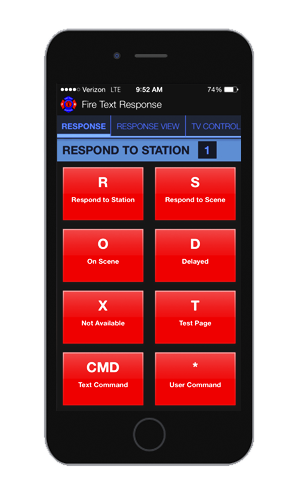 Step 3: Support
After help has been dispatched, the firefighter pager app continues to support the team by providing updated weather information, GPS directions, and communication between team members. You'll know instantly if someone is delayed, if backup is needed, or if more help is on the way. Each record is recorded and time-stamped for a full and complete record of each call.
How Much Does an Emergency Response System Cost?
We aim to serve fire departments across the United States with advanced communication through our customizable firefighter pager app. Even without big city budgets, you can still have the technology you need to stay at the top of your game.
A standard system comes with:
PC Workstation, 20 inch Monitor, Keyboard, Speakers, and Mouse
FTR Alert Receiver
32 inch HDTV, Wall Mount Bracket, 35 foot Active HDMI Cable
One Year Alert System Subscription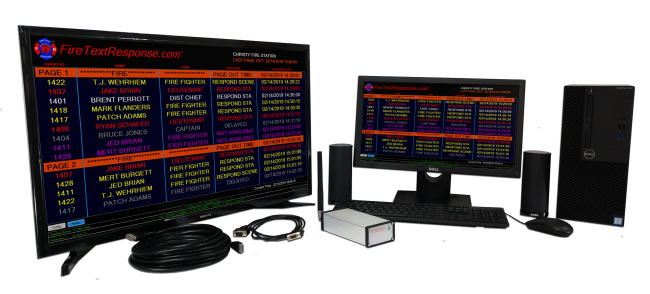 There are also additional system options you can select from to make the firefighter pager app and the Fire Text Response software work better for your needs.
After your initial set-up, you can then select from two annual subscription tiers:
Tier 1 which is $500 a year
Tier 2 which is $1,000 a year
All products are parts and labor warranted for 1 year starting the day you go online with the system. A broadband internet connection (512kbps or higher) is required for optimum performance. A backup up is recommended, however, if power is lost, the system will reboot and restart itself after power is restored so you're ready to go. The annual alert system subscription includes 24/7/365 technical support, plus free feature upgrades and software updates.
For more specific information about pricing and system options, contact our team today.
FAQs About Our Emergency Notification System
Your Brotherhood with Fire Text Response
As active volunteer firefighters in our own local community, we know the struggles you face on the front line, in the face of danger, every single day. For both career and volunteer firefighters, we all need something to make our jobs easier, provide reliable information, and stay informed in emergency situations.
Fire Text Response was born out of a desire to help fire stations everywhere be better informed of emergency calls. We received help from Verizon, Dell, Microsoft, and other technology giants to create the state-of-the-art technology and innovation you'll only find in Fire Text Response.
We're the only firefighter pager app in the world specifically built to detect radio paging. We're here to help stations across the nation serve their communities better and stay safer when it matters most.